Instructions for Authors
Oral Presentations
Each paper is allocated a time slot of 20 minutes, 17 of which for the presentation, and the remaining 3 for questions and discussion.
It is important to respect the time constraints to allow the presentations to fit within the allocated time periods. The session chairman will enforce these time limits.
Please be at the session room 15 minutes before your session begins, so that you can meet your session chairman and the other speakers in advance.
Overhead and video projectors will be available at the conference room. Other equipment, if available, will be provided if requested in advance; please check availability with the WIAMIS 2004 organization committee (wiamis2004@lx.it.pt).
Presenters may use their own laptops. A computer will be available at the room running WINDOWS XP operating system, and with PowerPoint Office XP installed; if you choose to use the computer at the room, please bring a compatible presentation with the files stored in a CD-ROM. In both cases, presenters are requested to test their presentation before the beginning of their session.
Poster Presentations
The poster boards are 180 cm x 120 cm (width x height). Poster size must not exceed these dimensions.
The material needed to put up your poster will be supplied by the local organization. Please do not write or paint on the poster boards. There will be members of organization in the room to ensure that facilities are working properly, and to give you any assistance you may need during the poster session.
Please use an appropriate font size for the posters in order they are readable by the workshop participants 1.5 m away. The poster message should be clear and understandable without oral explanation. A recommended format is given below.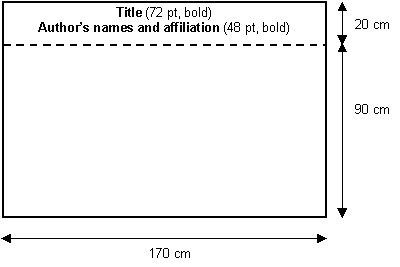 Posters should be put on the board at least 15 minutes before the beginning of the relevant posters session.
Authors are required to stand by their posters during the whole posters session, and to remove their posters from the boards immediately after the end of the posters session.