Registration Desk
The registration desk opening times are:
Wednesday, April 4, from 8:30 to 16:00
Thursday, April 5, from 8:30 to 14:00
The registration desk is located at the IST Congress Center (floor -2):
<![if !vml]>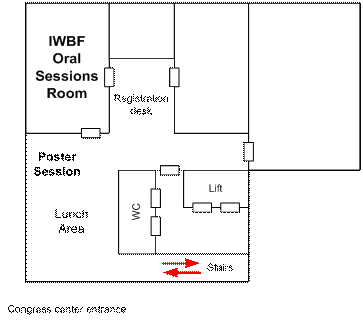 <![endif]>
Coffee Breaks
There will be two coffee breaks per day, one in the morning, and one in the afternoon; see the program for the precise times. The coffee breaks will be served in the lunch area of the IST Congress Center, see map above.
Lunches
Lunches will be offered during the two workshop days. They are included in the registration fee and will be served in the IST Congress Center hall.
Internet access
A wireless network connection will be available.
Instructions for wireless network access:
Login credentials will be provided on site.
1. Browse available wireless networks and select as SSID 'eduroam-guest';
2. Set IP to automatic (DHCP). This is usually the default setting, so you may probably skip this step;
3. Open your browser and try to access any external website. You will be automaticaly redirected to the page https://wifi.ist.utl.pt/index_auth.php. Follow the link 'Web based login' at the top of the page concerning short-time, conference and meetings accounts. Enter the provided username/password when requested;
4. After step 3 you may freely browse and access the Internet. You may need to repeat the above steps if you close your browser or if the connection times out.